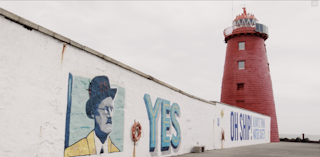 Dublin, Your Face
A cinematic journey around Dublin City, the port and its surrounding heart lands, though the spoken word of poetry dedicated to celebrating, and capturing the spirit of its history, culture and lifeblood. Dublin, Your Face is a poem film, with imagery set to a series of poems written exclusively by Majella Kelly, and read by a host of talented actors including Colm Meaney, and director Jim Sheridan.
Poetry spoken by:
Colm Meaney
Jim Sheridan
Jade Jordan
Hilda Fay
Jerry Fish
Jack Shaun Murphy
Denise McCormack

Director of Photography - David Christopher Lynch
Poetry written by Majella Kelly
Produced by Jason Forde
Edited by Eamonn Cleary
Sound Design by Nikki Moss
Sound Recordist - Danilo Zambrano
Colour Grade and 2nd Unit Director of Photography - Alba Fernandez
Score composed by Natasa Paulberg

Dublin, Your Face was funded by an initiative run by Dublin Port Company and The Little Museum of Dublin, and is installed in the museum.
Film
Film
Film
Films directed by Natasha.